a very special baby milestone – Lets Celebrate their 1st Birthday with cake fun!
Childhood is a time of wonder – and not just for your little ones! As my two little boys passed their first birthdays, I began to wonder just where the time was going. One minute I was celebrating their arrival into the world the next it seemed like I was planning their first birthday party. Take it from me – time doesn't slow down. In the blink of an eye those moments are gone. But it needn't be that way and that's what I provide by taking photographs of those wonderful occasions to help preserve and keep the memories stylishly vivid for all time. And I decided to make it fun too…
Kay is absolutely amazing at what she does, her photos are unbelievable. I had a cake smash session with my son, he loved every minute and Kay was amazing with him, I couldn't believe how many gorgeous pictures she got. Will definitely be back. Thankyou so much!
Babies. Cake. Mess. Three words that combine to strike fear into the heart of any parent! But for me, they spell fun and a real opportunity to create a memorable photo session for that special 1st or 2nd birthday. My Cake Smash sessions are a real favourite for both parents and babies alike – and I have to admit they're always a highlight for me too!
The shoot begins in a neat and tidy fashion at our studio with a few shots of your pride and joy dressed as you wish, perhaps surrounded by their favourite toys. I also have a wide variety of props and pieces of clothing available too. Then it's time to bring in the cake – and that's when the fun really unfolds! Of course, the emphasis is on mess and fun and the birthday cake goes literally everywhere – we have outfits to use for the cake smashing but if you want to bring a special outfit for it please be aware it will get cake on it!! After the cake has been enjoyed we have a tin bath handy at the end for splash time that adds to the story of the images!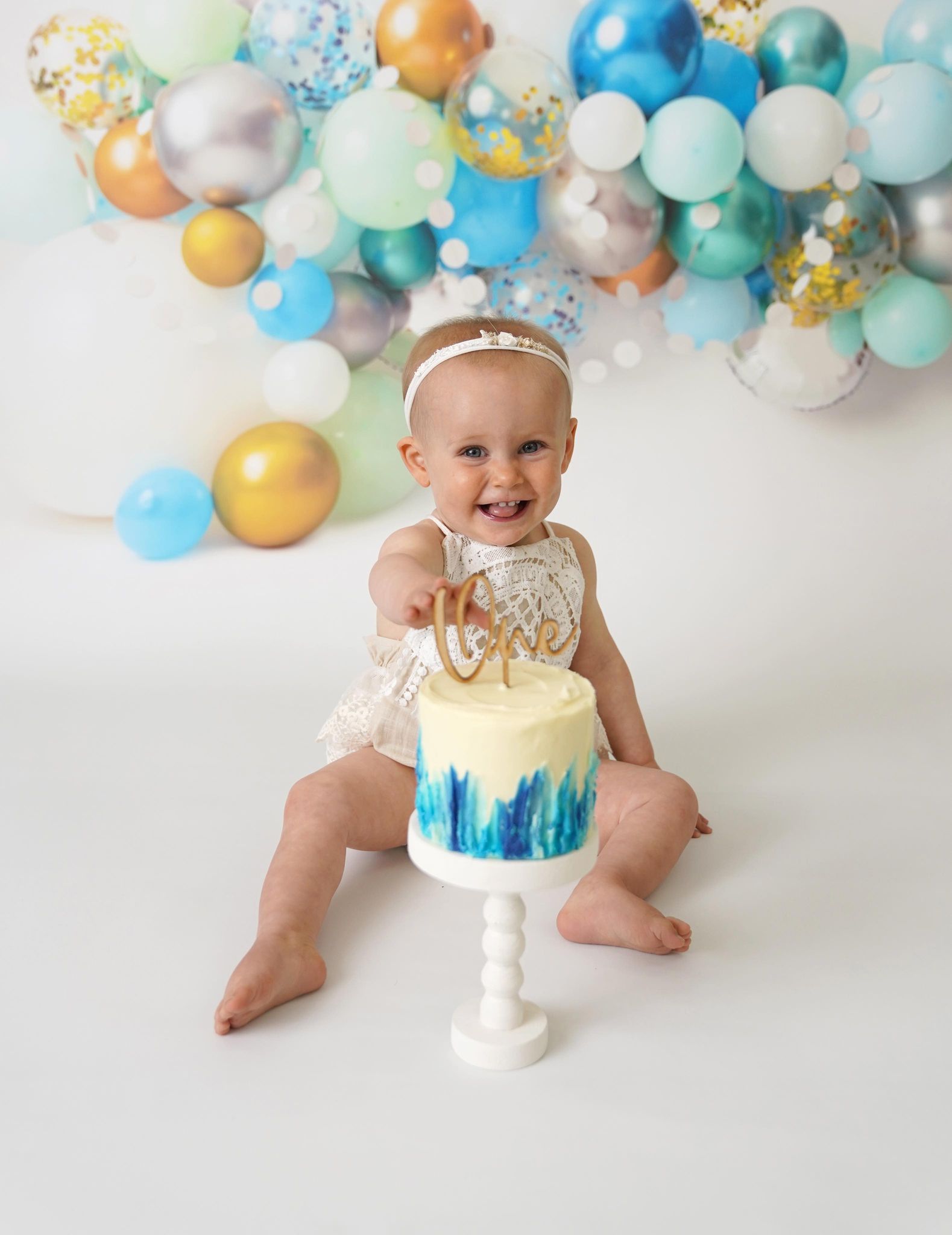 We provide the cake and can talk through with you before you session on the style of the session and the colours of the cake to make the experience truly special for your baby.
I do not charge a session fee, I take a £99 deposit to secure your session which is put towards your choice of the packages below at the viewing appointment approx 2 weeks after your session.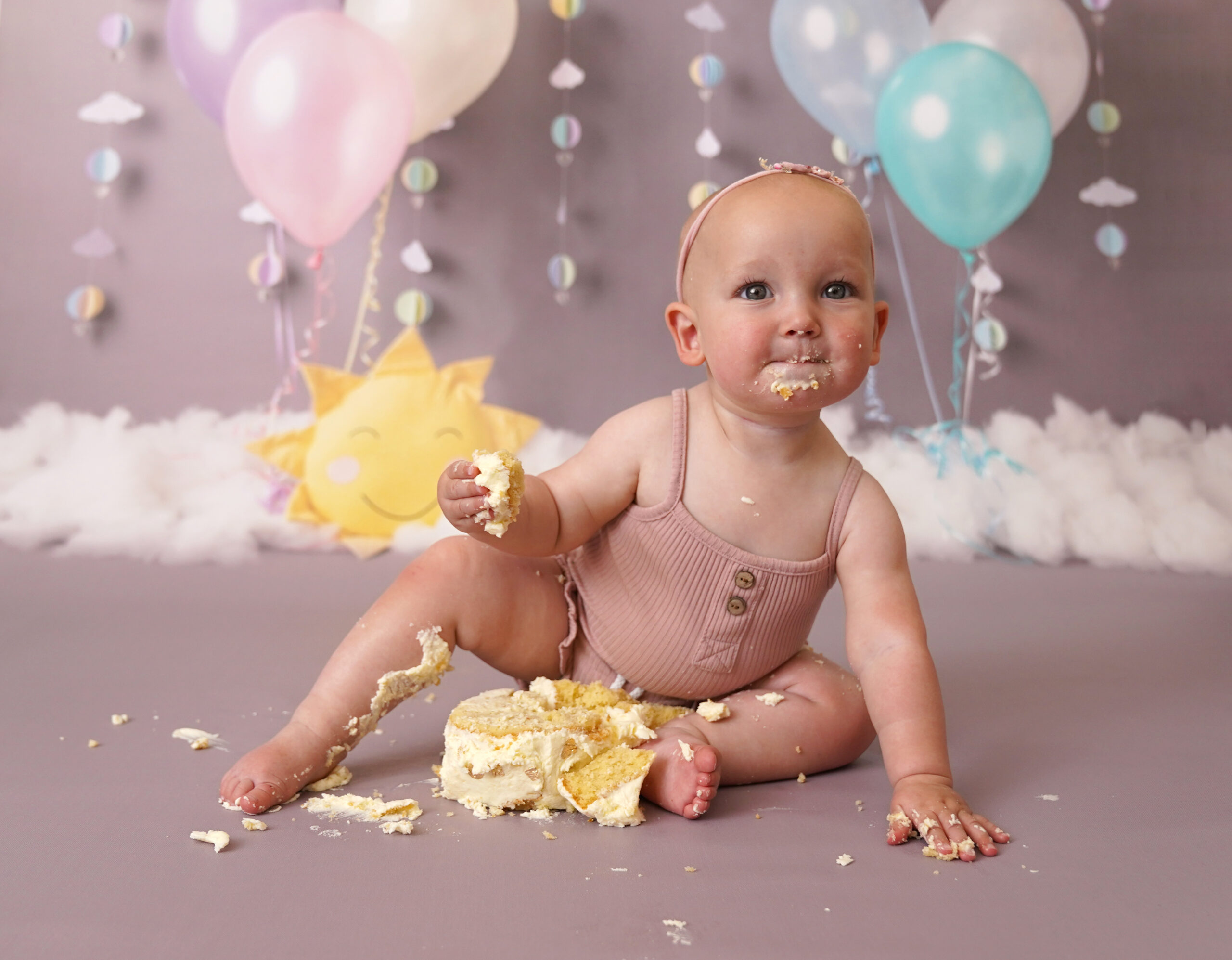 Included in your Package:
Full Cake Smash Session Approx 1 hour
Viewing Appointment
All Fully Edited Digital Images
10 Boxed 10×8 Mounted Prints
HD Slideshow of your images
Facebook Timeline Cover
Cake Provided
Full Use of Props
£100 Towards Signature Wall Art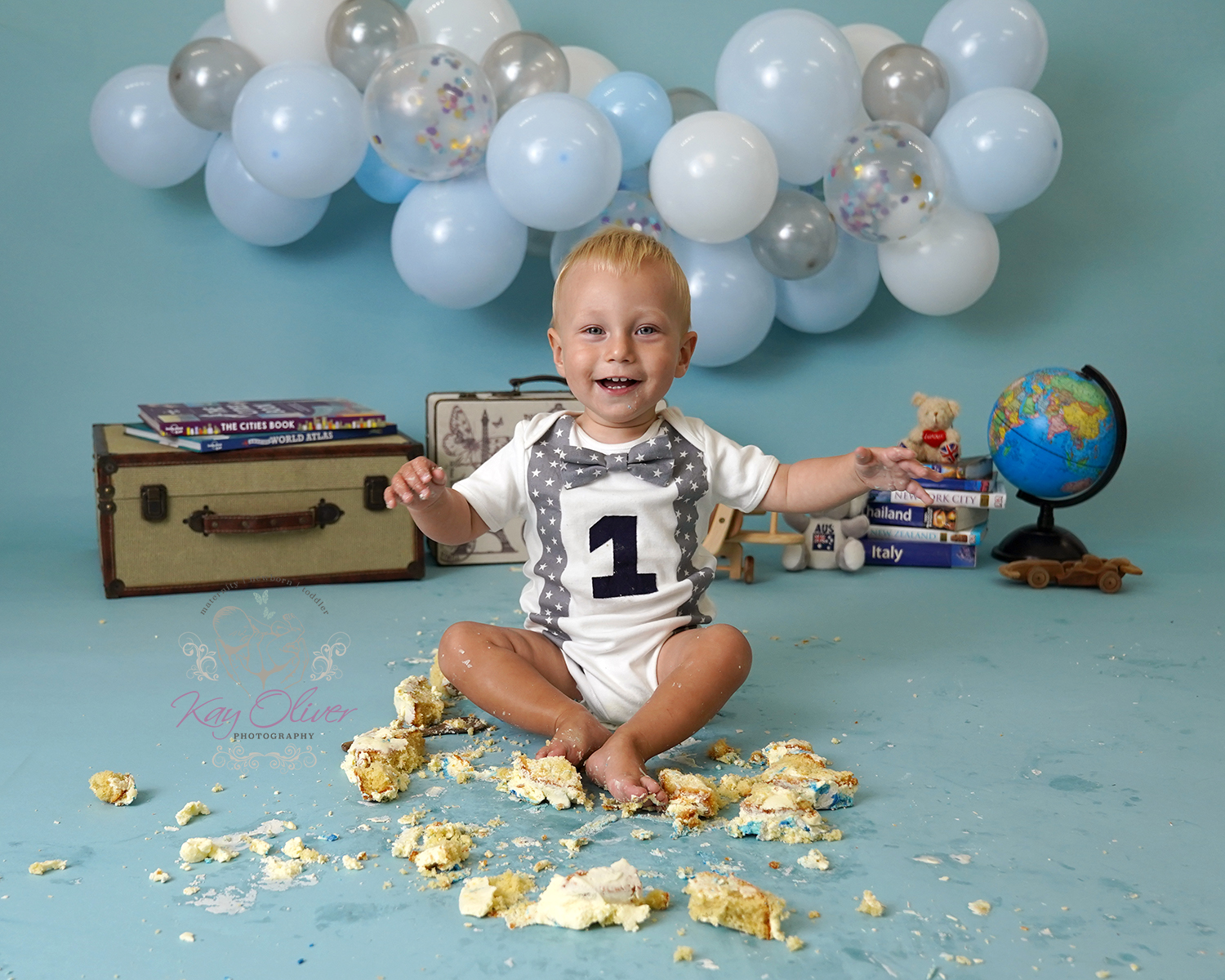 Included in your Package:
Full Cake Smash Session Approx 1 hour
Viewing Appointment
10 Fully Edited Digital Images
Same 10 images as Mounted 8×6 Prints
HD Slideshow of your images
Cake Provided
Full use of Props and Outfits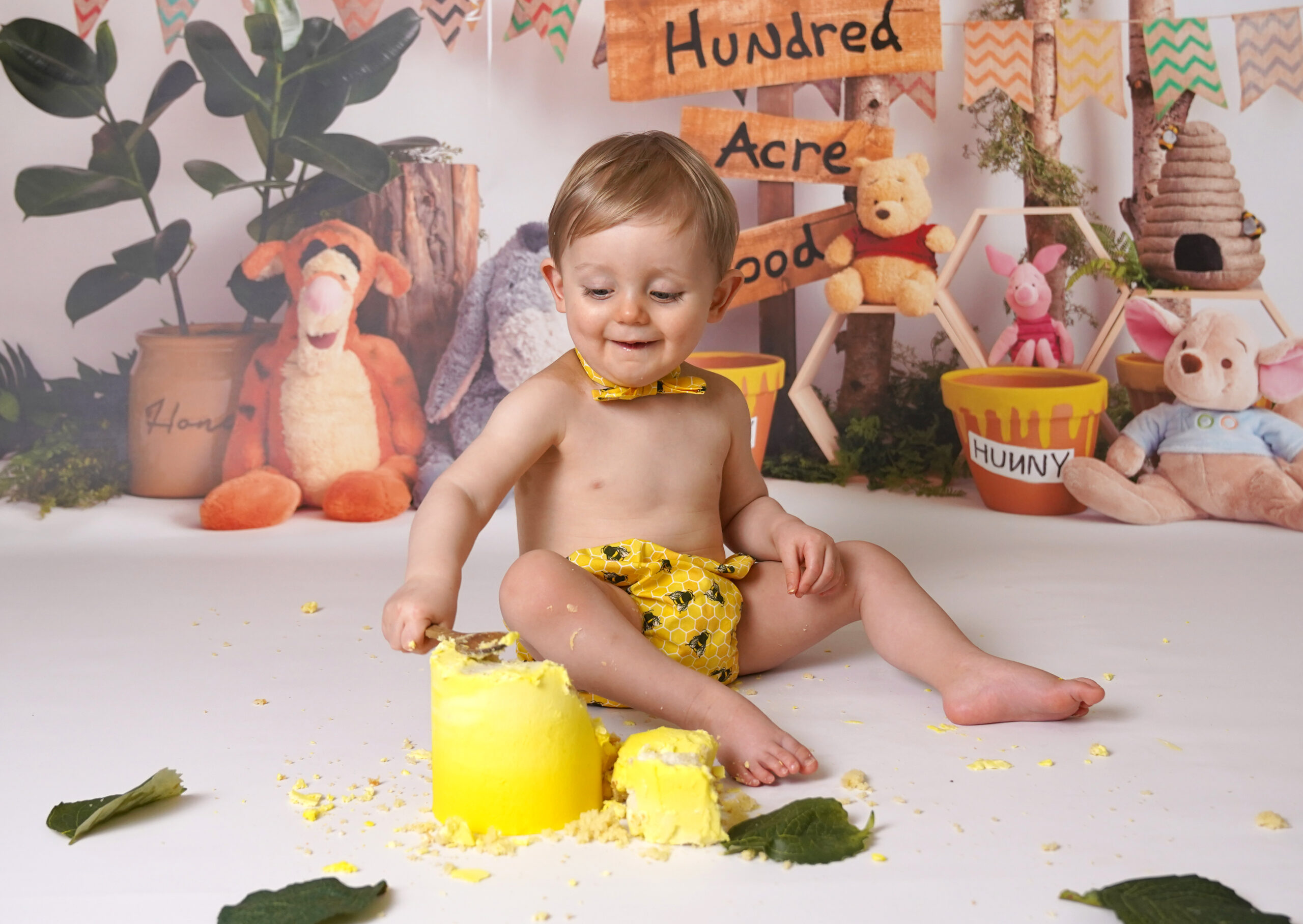 Included in your Package:
Full Cake Smash Session approx 1 hour
Viewing Appointment
5 Fully Edited Digital Images
Same 5 images as Mounted 8×6 Prints
Cake Provided
Full use of Props and Outfits
Stunning products and wall art
When booking your photography session although the experience is a major part of why and who you book to take your photographs the main reason for having your images taken is to have them displayed beautifully to look at daily on your walls or share as a family in a keepsake album that your children can grow up looking through.
Children respond well to seeing images of themselves on the wall and at Kay Oliver Photography we use the highest quality products available to make sure your images are going to be displayed in the best way possible.
We have an exciting range of Wall Art product options available to you.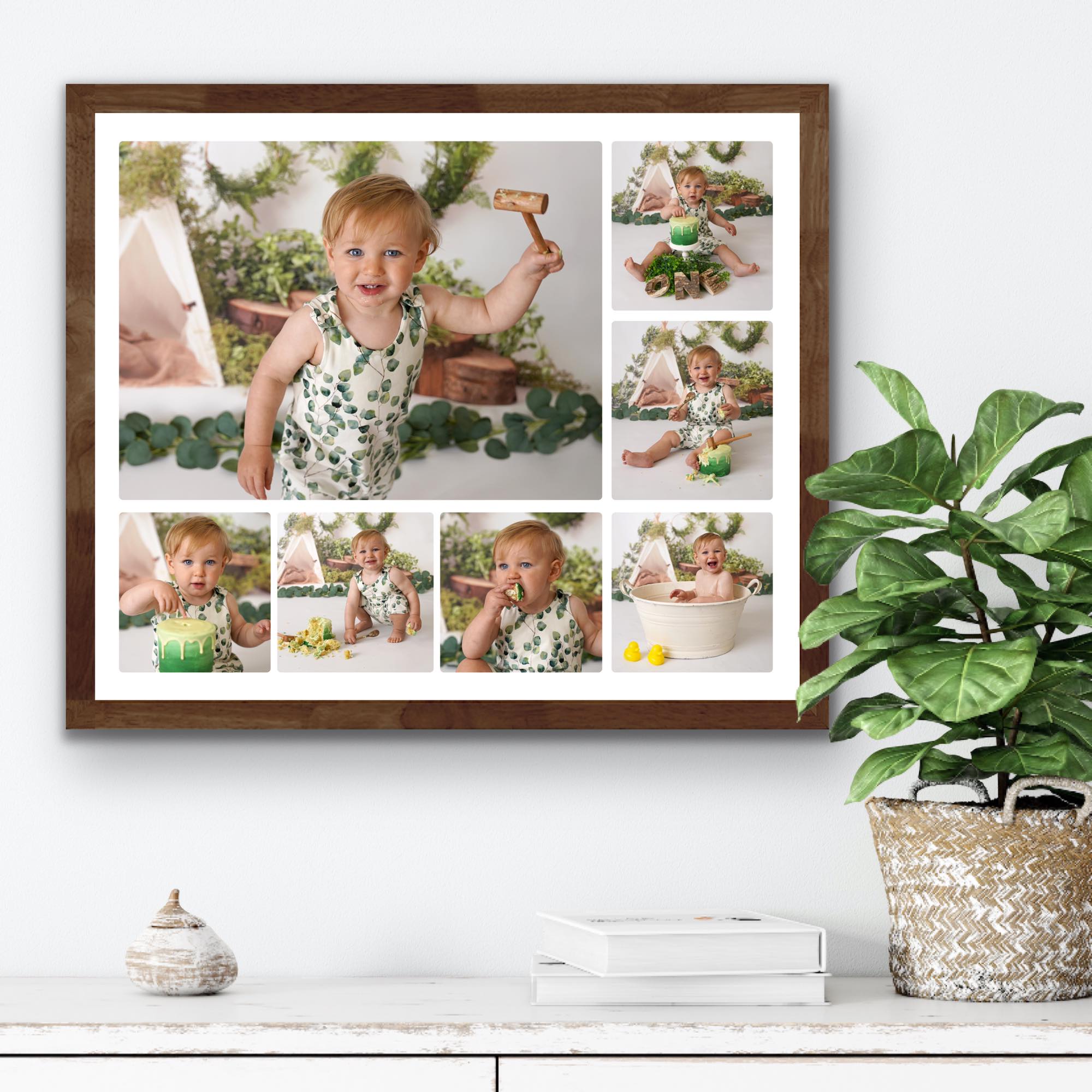 FREQUENTLY ASKED QUESTIONS
Does the session include the cake or do we have to bring one?
Your session includes the cake!! You have a choice of a Giant Cupcake or an Iced 6″ Cake and also the colours we use too. I order the cake from our local cake maker a few weeks before your session so if you have colours in mind let us know or we can discuss a few options with you.
My child has special dietary requirements, can you still provide the cake?
A lot of children have allergies and we would love to provide the cake if we can but that would depend on the allergy and if the cake maker is able to do a special order. If you can contact us directly with your requirements I will be able to check if this is possible for you and let you know
When should I book my session?
I book the diary out approximately two months in advance but that being said my dairy is very fluid as I have to book around due dates with my newborn sessions so if you are wanting your session sooner contact us to find out what dates we have available.
Where does the session take place?
These sessions take place in my Natural light studio which has been designed to give you the home from home experience so that you can relax and enjoy your session.
Where does the session take place?
All newborn sessions take place in my Natural light studio which has been designed to give you the home from home experience so that you can relax and enjoy your session.
How long does the session last?
Cake sessions are up to an hour depending on your baby. The session is tailored to your baby to make sure there is no rush and plenty of time for nappy changes & cuddles when needed.
Do you provide clothing for the images or do I need to buy something?
I have a little clothes rail in the studio with little outfits that have been made specifically for the studio. there is a selection of outfits for bays and girl in various sizes so if you are wanting to come with your baby and just use our outfits that is absolutely fine with us. however if you have seen an outfit in my images or somewhere else that you specifically want to be used please let me know so I can let you know if we have that outfit and if it is in the right size.
Can siblings and parents be in a few images?
Yes of coarse I love to capture images of parents with their child/children and the bond between siblings. The family images would be done at the beginning of the session before the cake comes out. We recommend that the baby is allowed to trash the cake by themselves in the beginning and then depending on the ages of your older children we may be able to do a few images of them all tucking into the cake. If you are wanting this then please discuss with me before your session so I can tailor the session to suit you.
Can I request certain poses or images I've seen on other photo sites?
If there is something that you have seen please discuss this with me before your session so I can prepare what I need to do it. But please no that I will not create images that I deem unsafe and I will not guarantee any pose as every child is different and may not want to go in the pose or prop you have requested.
What should we wear?
Simple is best. I photograph baby's and toddlers wearing clothing supplied by me or if you have a special outfit or two you would like to bring that is fine but please try to avoid bright colours or busy patterns as they are very distracting in the images. I recommend that the rest of the family wear clothing that coordinates without matching exactly (there is no need for everyone to be in blue jeans and white T shirts). Children should wear clothing they like and are comfortable in, although it is best to avoid characters or logos if possible.
Is there anything we need to bring with us?
You may want to bring a spare change of clothes for yourself as we know your baby will get messy that is what the session is all about but if they want cuddles or reassurance during the session this may mean you get a little messy too. We also ask for you to bring a drink for your baby and  also your baby's favourite treat. this may sound strange as they will have cake to eat but some babies get intimidated by the cake and if I put a few chocolate buttons or cheerios into the cake it helps them get started.
How many proofs will I get to choose from?
I fully edit up to 30 images from your session so you have a beautiful collection of a variety of different poses to choose from. Your images will be ready for you to view in your ordering appointment usually within 2 weeks of your session.