Rainbow babies are those born to couples who have experienced a previous loss due to miscarriage, stillbirth, or neonatal death.
It is the understanding that the beauty of a rainbow does not negate the ravage of the storm. When a rainbow appears, it doesn't mean that the storm never happened or that the family is not still dealing with its aftermath. What it means is that something beautiful and full of light has appeared in the midst of the darkness and clouds.
We were very lucky to win a rainbow session, our experience has been amazing from start to finish, the shoot itself was a very calm and enjoyable experience, especially being nervous first time parents, getting out the house seems such a task! we had the best couple of hours. Our images are absolutely perfect and I can't wait to cherish them for years to come highly recommended! Thank you so much!
I am really proud to announce a project that is very dear to my heart! Having gone through 2 miscarriages myself, I have been through the loss and grief that it brings and the worry of going through a rainbow pregnancy.  I have taken beautiful images of rainbow babies for lots of families over the years and have seen the joy on the parents faces to see the photographs I create for them and I want to do more.  I have decided to offer free 'Rainbow Baby' newborn sessions to deserving families expecting a rainbow baby.
One newborn session will be gifted per month to eligible families. These sessions will take place within 2 weeks of the birth at my studio located in Long Eaton, Derbyshire. Please apply as soon as possible to avoid disappointment, the earlier the better! Please also allow a minimum of 4 weeks prior to your due date to be considered. The chosen family will be notified at the beginning of the month from the previous months nominations.
I will accept nominations/applications from friends and family members.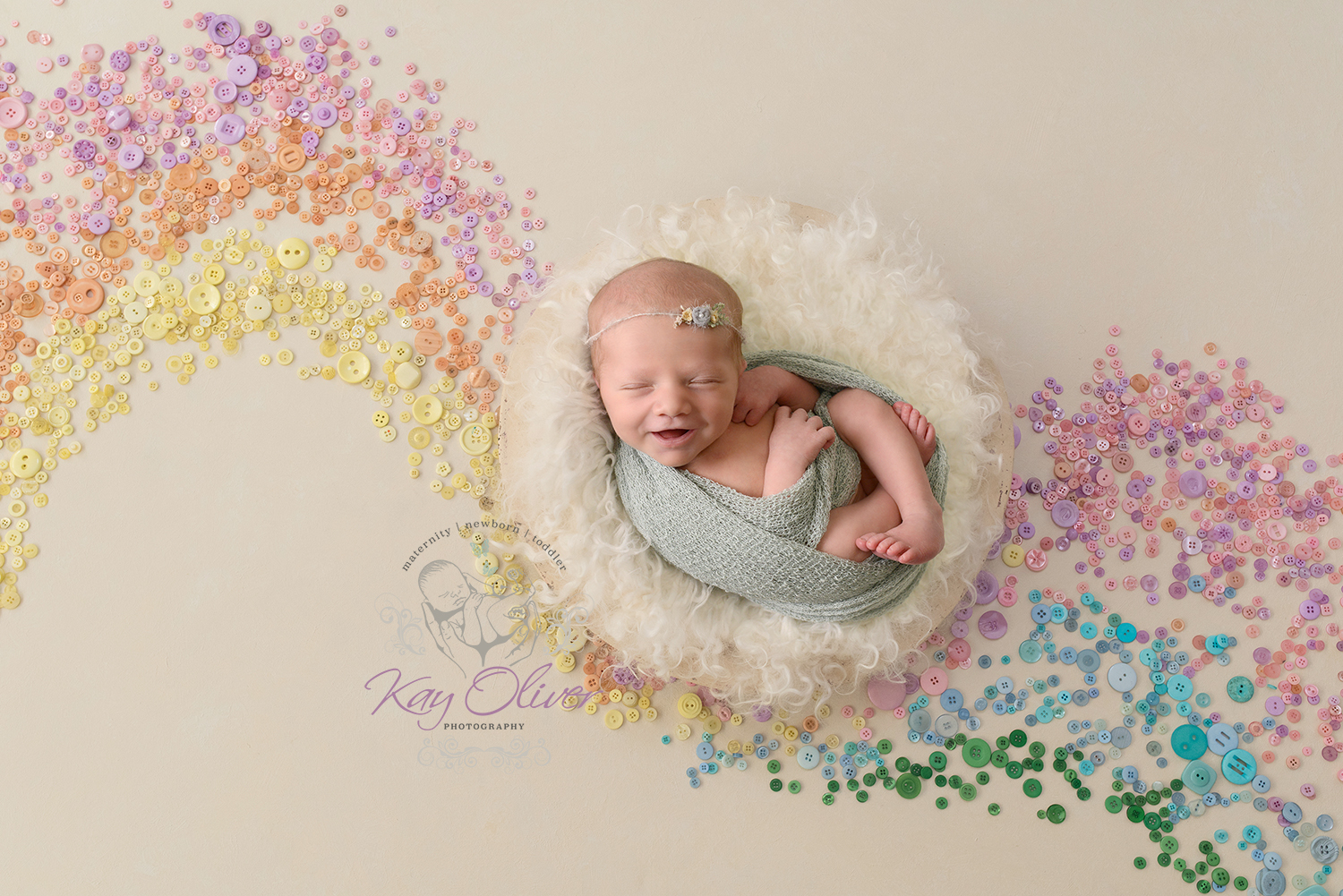 1 hour newborn session at my studio
Newborn images, Parent shots and a family shot too for you to choose from.
5 fully edited digital images
£50 towards a Sitter Session or Cake Smash to carry on the celebrations of your baby's special milestone
Stunning products and wall art
Having a photography session with me to celebrate your rainbow baby is not just about the experience although this is a major part of why and who you book to take your photographs the main reason for having your images taken is to have them displayed beautifully to look at daily on your walls or share as a family in a keepsake album that your children can grow up looking through. Included in your package is 5 digital images but you are welcome to buy more digitals or choose from our beautiful products too, no pressure I promise.
Children respond well to seeing images of themselves on the wall and at Kay Oliver Photography we use the highest quality products available to make sure your images are going to be displayed in the best way possible.
We have an exciting range of Wall Art product options available to you.